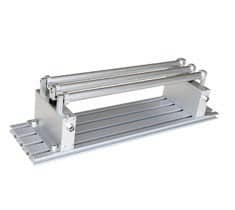 DTW Wide Web Sensors
March 23, 2022
EKTW-CA-050D
March 23, 2022
FX-BBW-1500 Flex-Winder
Request Info & Pricing
–  The Flex-Winder is a programmable winder, enabling various wind patterns for different  fibers on to various size bobbins. This single unit can accommodate most  winding requirements, making it ideal for a wide range of winding processes.
Description
Speed and direction control          Constant rpm type with CW and CCW winding flexibility
RPM Range                                    0 rpm to 1500 rpm
Traverse width                             40mm to 200mm  (different traverse ranges available upon request)
Yardage counter                      Automatically stops winding when set length is reached.
Doff warning setting slows winder down before set length is reached,
to prevent overrun and alert the operator.
Traverse pitch                            0.5mm to 5.0mm   (different pitch ranges available upon request)
Automatic stop                          Winder stops automatically upon reaching set yardage
Let off creel                            Adjustable core chucks to accommodate different size ID on cores.
Mechanical tension control creel or electronic tension control creel options.
Electronic tension control option enables taper tension control.
Over end let off and unrolling let off options available.
Fiber break sensor                Equipped with fiber break sensor to stop winder upon fiber break.
Operator interface           Color HMI screen for easy adjustment of various parameters.
Remote start/stop options available.
Recipe options are available if required for multiple stored settings.