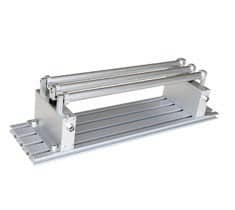 DTW Wide Web Sensors
March 23, 2022
EKTW-CA-050D
March 23, 2022
EKTW-CX
Request Info & Pricing
Take up winder for winding Pan or Pitch carbon fibers, aramid fibers and other high performance fibers. This winder is a computerized version of our mainstream production winder EKTW-C. It offers electronic setting changes via the main HMI, including the following features:
Description
Type of Fiber

Carbon Fibers :1K – 50K, and other Hi

–

performance fibers

Number of Positions per Frame

5 rows x 4 positions high, 20 spindles per frame

Winding Speed
1 – 40 m/min, for other ranges please contact
Wind Ratio
Programmable via winder HMI

(CX selectable feature)

Tension

100gr

–

3,800gr (air cylinder)

(CX selectable feature, conventional spring tension is also available)

Package Pressure
1.0kg – 3.0kg via winder HMI

(CX selectable feature)

Yardage Counter
Yardage counter encoder (CX selectable feature)

(Standard CX can receive pulse signal from customer process)

Communications Option
Remote monitoring and control

(CX selectable feature)

Bobbin Holder
Mechanical
Package Size

Traverse: 254 mm

(10″)

Max OD: 250 mm (Available max. OD 350mm as an option : EKTW–CLX type)

Paper Core Size

ID: 76 – 77 mm

Length: 280 mm (11″)

OD: 82 – 85 mm

Power Requirement
3 Phase, AC208 – 220V, 50/60Hz or 3 Phase + N, AC400V, 50/60Hz
Optional Items

•

Flat tow traverse guide: Winding tow flat without twist

• Length counter and doff timer system

• Auto doffing turret winder: see EKTW–CAX type

• Tension sensor system for monitoring winding
tension

• Filament break sensors and tow width monitoring

• Main controller with Allen Bradley, Siemens,
Mitsubishi…etc.