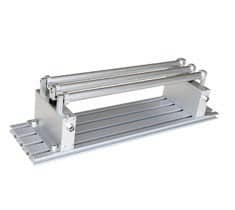 DTW Wide Web Sensors
March 23, 2022
EKTW-CA-050D
March 23, 2022
EMFT-BT
Request Info & Pricing
EMFT-BT is designed for winding flat materials without damaging, bending, or twisting the tape. This winder is used for materials such as tow-preg, tapes, flat yarns, slit film materials, slit prepreg.
Description
Type of Material

Tapes with width between 5mm to 30mm.

Number of Positions per Frame

4 rows x 3 positions high, 12 spindles per frame

Winding Speed
Max 200 m/min (at OD

6″

tube), for other ranges please contact
Winding Pitch
0.1mm—

39.9

mm
Tension Control

By dancer roller control

Winding Tension

10gram—50 gram

Traverse Length

20mm—250mm

Tube size

ID

1″

tube to ID

6″

tube, paper tube or plastic tube

Max Package Diameter

350mm

Traverse System

Simultaneous bobbin traverse

Driving System

Individual drive on each spindle

Power Requirement

3 Phase, AC208 – 220V, 50/60Hz

Control System

 

Tension and speed control by dancer roller system.

Main HMI is used to control traverse length, winding pitch, and winding positions.

Option for rotation direction switching (clockwise/counterclockwise).