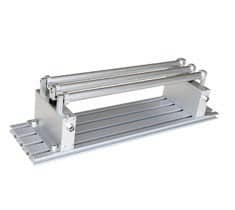 DTW Wide Web Sensors
March 23, 2022
EKTW-CA-050D
March 23, 2022
Karakuri Automation
Request Info & Pricing
Karakuri automation systems require no electricity or electronic controls, utilizing the weight of the product itself to generate motion. It is a low cost solution for automated material handling.
Description
Gravity feed MHS rolling track
The MHS tracks are made of roller components for smooth delivery.

Loads of up to 30 kg/box can be handled.

No limit in length of tracks.

Accessories for rolling track
Anti-reversing stop for bins.

Simple braking inserts can be located as desired along the track.

Counter-weighted lift stations
Counter-weighted lift stations can be used to change the elevation of bins, higher or lower positions as required
Bin speed reducers
Speed reducing wheels are integrated to slow the momentum of the bins as they accelerate down the track.

They are designed per bin/part weight and length of track, to slow the bin down as desired.

Direction diverting elements
Curved roller sections and 90 degree diverting mechanisms are available for changing direction or orientation of the bin.